Press release: reMarkable announces major expansion of software ecosystem and changes to subscription service
reMarkable, the leading innovator within the paper tablet category, today announced plans to expand its ecosystem of productivity software and the focused workflows it enables to mobile and desktop devices.
September 20, 2022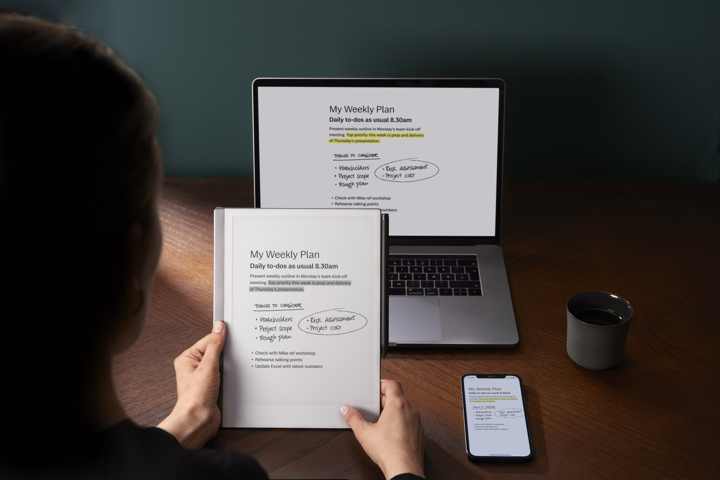 As part of the plans, reMarkable also announced changes to its subscription service, Connect. The changes will save new and existing subscribers up to 60% a month, and give all users access to every feature on the reMarkable paper tablet, regardless of subscription status.
Features such as Google Drive, Dropbox, and OneDrive integration, handwriting conversion, send by email, and Screen Share — which were previously exclusive to Connect subscribers — are now available to all reMarkable users.
Connect, now priced at $2.99/mo. (down from $7.99/mo.), gives subscribers access to cloud functionality beyond writing, reading, and annotating on the paper tablet. With a Connect subscription, notes will always be stored safely in the reMarkable cloud and instantly accessible from other smart devices using reMarkable's desktop and mobile apps. Subscribers will also receive exclusive offers in the reMarkable webshop and additional peace of mind with a reMarkable 2 Protection Plan.
Later this year, reMarkable will begin to roll out a major expansion of its software. New features include the ability to create documents that combine handwritten and typed text, infinite vertical scrolling within pages, and improved handwriting conversion. Connect subscribers will also be able to capture ideas and take notes anywhere using the mobile and desktop apps on their preferred smart devices.
"We want to help our users create workflows that enable them to do focused work, whether that's keeping track of lecture or meeting notes, reading and annotating documents, or sketching," said Magnus Wanberg, CEO of reMarkable. "With today's changes, reMarkable and Connect provide a distraction-free workspace that will soon extend across multiple devices."
The new software features and changes to Connect represent reMarkable's ongoing evolution from a hardware company to a developer of an ecosystem of hardware and software products designed to help people focus.
"The launch of Connect in October 2021 marked a major milestone on reMarkable's journey," Wanberg said. "The feedback we've gotten from our more than one million customers worldwide has been vital in helping us build not just a better subscription service, but an ecosystem for knowledge workers. We can't wait to share more about what we've been working on later this year."
For existing Connect subscribers, the changes will go into effect next billing cycle. Connect Lite subscribers will automatically be upgraded to the full, less expensive Connect subscription. Current reMarkable 1 and 2 owners who purchased prior to October 12th, 2021, will continue to be offered full free access to Connect. New reMarkable paper tablets purchased in the webshop include a 1-year free Connect subscription to give all users a chance to try it out.
---
For more information, pictures and other assets, check out our press kit or contact:
​Christina Andersen, Senior PR Advisor
​[email protected]
About reMarkable
​Based in Oslo, Norway, reMarkable is the leading innovator within the paper tablet category, developing breakthrough digital paper tablets for note-taking, reading, and reviewing documents. Its vision is to create human-friendly products to help people think better. Since launching the original reMarkable 1 paper tablet in 2017, the company has sold more than one million units and reached unicorn status. For more information about reMarkable and its digital paper tablet, visit https://remarkable.com.